The vehicle branding program is one way the government is helping to keep drivers safe and informed. Assigning a brand, or status, will let customers know if a vehicle they are interested in has been previously damaged and whether it has been rebuilt to meet Ministry and manufacturer's specifications. Brands can be assigned by insurance companies, salvage yards / auto recyclers, vehicle importers, dealers, and auctions. The brand is shown on the ownership / registration card.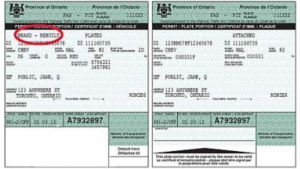 In Canada a brand or status is assigned by the provincial or territorial government. Here are the different categories:
Irreparable / Non-repairable:
The vehicle has been written off by the insurance company as a total loss, and the damage is too severe to repair. Some examples are flood damage, fire damage, major collision, or stolen and dismantled. The vehicle cannot be legally driven on the road in that province or territory. Ever. It can only be used for parts or scrap.
Stolen:
This status is for vehicles in Manitoba and Nova Scotia that have been stolen and not recovered. Once recovered, the police can lift the "Stolen" brand and the car may be re-branded depending on its condition.
Salvage / Salvageable:
The vehicle has been written off, but it can be either repaired or used for parts. Salvage titled cars can be driven in demolition derbies but still cannot hit the road until they have been rebranded to "Rebuilt".
Rebuilt:
The vehicle had a previous designation as "Salvage" and has been repaired in accordance to the province or territory's specifications to be safe to drive on the road. In Ontario, the vehicle must receive a Structural Inspection Certificate from a Type 6 Motor Vehicle Inspection Station to earn "rebuilt" status.
None / Normal:
The vehicle may have been damaged but not severely enough to get one of the above brands. Or it may have had a brand in a different province, territory, or state. Or it may have been damaged before the mandatory branding laws were put in place. Or it may have never been damaged.
Altered:
This status is used in British Columbia for a vehicle that has been significantly modified, such as a monster truck, but is still structurally sound and road worthy.
—
In the United States, the state DMVs have their own branding similar to ours, but with some variations in name and criteria for inclusion.
(Image courtesy of OMVIC)