Audi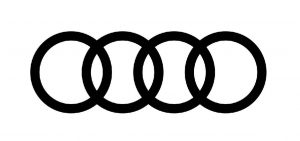 Audi AG is the result of a 1932 merger of four automobile companies: Audi, DKW, Horch, and Wanderer. The four interlocking rings of the Audi logo represent the coming together of these four companies.
(Source: Audi.com)
Toyota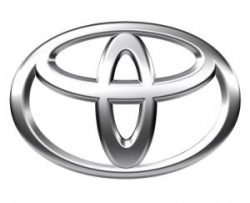 Toyota introduced its new logo in 1989 to commemorate its 50th anniversary. It is comprised of 3 ellipses. The two inner ellipses represent the heart of the company and the heart of the customer. The fact that they overlap symbolizes the sharing of the same values and mutual trust. Together they form the letter T. The outer ellipse represents the world embracing Toyota, who was expanding to new markets at the time. The negative space represents endless possibilities, and the varying thicknesses in the ovals is a nod to the calligraphic nature of Japanese writing.
Source: Toyota.com, Toyota.co.uk
BMW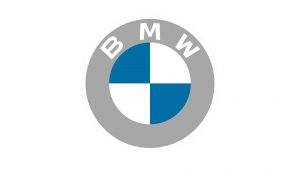 It's an aircraft propeller. But it's not. But it still kinda is. Bayerische Motoren Werke, or Bavarian Motor Works in English, arose from the renaming of aircraft engine company Rapp Motorenwerke. It is widely believed that the white and blue inside the circle represent propellers on a blue sky background. The original intent of the emblem design was simply to represent the state colours of Bavaria, but a 1929 advertisement showed the BMW logo superimposed onto spinning airplane propellers, which led people to associate the logo with propellers. Another similar photo in 1942 reinforced this connection, and there was no reason to dispel the myth that this was the original thought process for the emblem design.
Source: BMW.com
Volvo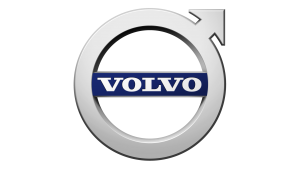 Not just for men. In 1926, the automobile company was formed, and used a logotype that included the name VOLVO inside the ancient symbol for iron, a circle with an arrow pointing diagonally to the upper right. Although this is also the male symbol, the intent was to convey the strength and durability of iron.
(Source: volvoclub.org.uk)
Škoda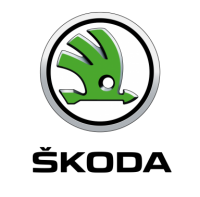 The black inner circle represents 100 years of history, the wings represent speed and movement, the arrow represents precision, and the colour green demonstrates their commitment to the environment.
(Source: skoda-auto.co.in)
Subaru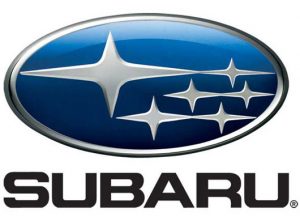 The big star in the Subaru logo represents Fuji Heavy Industries, and the five smaller stars represent the five companies that merged with FHI to form what is now Subaru Corporation. The alignment of the stars in the Subaru logo represent the constellation Pleiades, or in Japanese, Subaru.
(Source: Subaru.ca)
Jaguar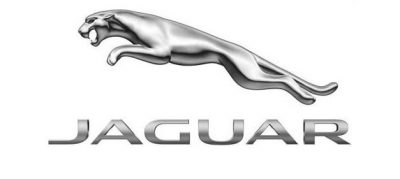 Whether you pronounce it with two syllables or three, Jaguar's logo is, well…. a jaguar.
(Source: me)